What is Postet
™

?

Short Answer: A social networking platform for gamers. By gamers.

Postet offers all the basic features people came to expect from social platforms. In addition, we are working to introduce new features that deliver valuable and novel experiences, specially for our users who happen to be gamers.

For example, unlike traditional social network websites where users can only arrange their posts in a linear format (i.e., the never-ending stream of data also known as infinite scroll), Postet also allows users to decorate a 3D-ROOM™ with their posts. Site visitors can then explore those 3D worlds just like if they were browsing a real art gallery, museum, or store. To move around a 3D-ROOM, users use the mouse or arrow keys, and they double click the images in the 3D-ROOM to comment, like, or share the posts. Double-clicking sky banners allows visitors to go to any linked user profile that's available. All thanks to Postet's 'Patent Pending' 3D-based social networking system.
---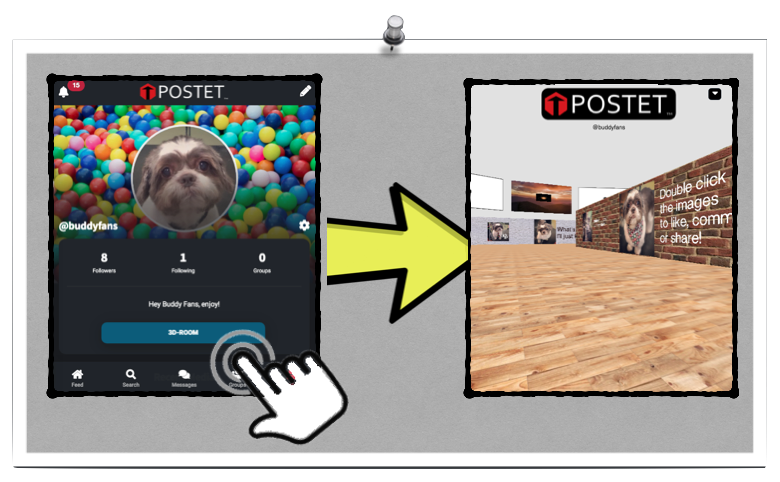 On a Profile page, click the 3D-ROOM button to visit that user's 3D-ROOM.
Still curious?
And, if you want to try it and see it for yourself, go ahead and SIGN UP! We hope you like it!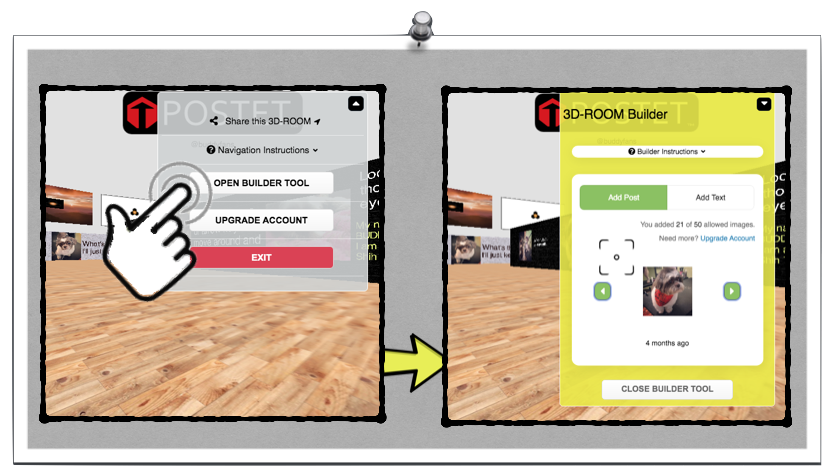 After you sign up, here's how you can decorate your own 3D-ROOM:
Go to your profile page
Click the 3D-ROOM button
Click the OPEN BUILDER TOOL button
Choose what you want to add to the 3D-ROOM
Click anywhere within the 3D-ROOM™ to place the object.
To adjust an object, select it with a click and use the available BUILDER editor to modify it.
Postet Inc. is a startup company based in Pittsburgh, PA, USA. It was established in 2020 and we are working hard to improve the product. If you have any bug reports, questions, and/or suggestions, please contact us.
We are constantly updating the site with more features so stay tuned!
Think it. Postet.
™
The Postet Team.
hello@postet.com